V20 Counterfeit Money Detector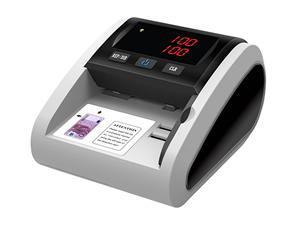 Application
The V20 counterfeit money detector applies comprehensive digital analysis to banknotes, and is capable of authenticating a bill in less than a second, significantly saving time and costs.
Specification
Display: 5 Digits LED display
Currency Supported: EUR, USD, PHP
Counterfeit Detection: IR detection/ MG detection
N.W.: 0.6 KG
G.W.: 1.0 KG
Dimensions: 150(L) x 130(W) x 88(H) mm
Power Options: AC Adaptor or Battery
Power Supply:AC 100-240V 50/60Hz
Power Consumption: 10 W
MOQ:100
Feature
1. The V20 counterfeit money detector accepts bills inserted from all directions in every orientation.
2. Authentication of EUR is performed automatically by the counterfeit detector through an integration of MG and IR detection.
3. Battery and external power supply are both supported to power the device. A full charge allows the counterfeit detector to work continuously for hours. Besides, the detector will enter standby mode when idling to save energy, which further ensures durability of the device.
4. High availability is achieved in the product through its tininess-rendered portability as well as the message displayed on LED screen after detection.
Other products